Home
DeColores!
Welcome to the Region XII Roman Catholic Cursillo Website.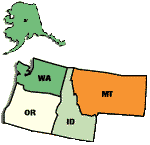 The Region XII Catholic Cursillo Movement is made up of Roman Catholic Diocesan Cursillo Movements in Idaho, Oregon, Washington, Montana, and Alaska.
If you are a first time visitor and have never heard of the Cursillo movement before, an explanation of what cursillo is can be found at http://www.natl-cursillo.org
Our Mission: As Region XII Leaders is to serve the needs of the Diocesan Leaders by facilitating the regular and effective communication among the Diocesan Leaders and the Region XII Service Team. To develop the skills and fellowship within the Region XII Service Team to most effectively minister to the Cursillo Movements of Region XII. To provide on going formation opportunities for the Diocesan Leaders and the Cursillistas of Region XII in order to build viable and effective movements in the Dioceses of Region XII.
To build the church for CHRIST!