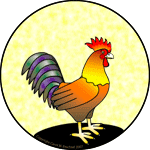 3-Day Cursillo Weekend
The 3-Day Cursillo Weekend is an important part of understanding the Cursillo Method, but is not the essential part of Cursillo. Cursillo is about supporting Catholics in their walk with Jesus Christ. It is about building a solid, loving, informed understanding of God's call and putting our lives into action.
The weekend focuses on how piety, study, and action are all essential parts of a solid foundation and how small groups can support us in our walk.
To attend you must have a sponsor who has made a weekend in the past, is willing to help you find a group and will encourage you after your 3-Day.
To get a sponsor join us at Ultreya or ask a Cursillista you know to sponsor you. (You must be a Catholic able to receive the sacraments to attend.)
Refer to the "Events" page for Upcoming 3-Day Cursillo Weekends